January 5, 2021 / cindybthymius
Today's bride-to-be have so much to think about, and one of the last details of the night is YOUR EXIT.  How do you want to leave your guests that have attended your wedding and reception?  Let's explore our different options:
First up is the go to sparkler exit.  This is a popular favorite among wedding couples.  There's something about the way the light reflects off the couple as the exit through their guests.  It's fun and it's fairly common.  Most wedding venues do allow this option, but I definitely recommend you asking before buying the sparklers!  The only downside is if alcohol is served at your wedding.  Let's just say…alcohol and fire do not play well together 😛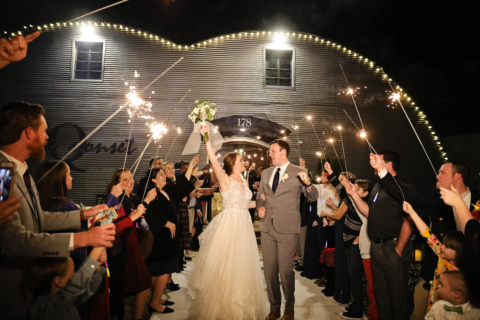 Another option that couples consider is the bubble exit.  Bubble exits are perfect for venues who have strict exit policies.  Bubbles are also just fun.  Get all your guests to gather around the couple and tell them to start blowing bubbles for all they are worth.  The more bubbles the better the photo will look.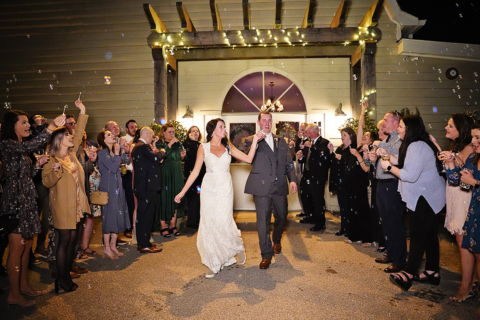 The other popular exit here in Memphis is the Second Line!  The handkerchiefs are the perfect gift for your guests.  They are so fun for the guests to use as they send you off to your new life.  Bring your own umbrella like these two did, and it makes the photo so festive.  Now, to really do it RIGHT, get your own jazz band, and you've really done the send off right.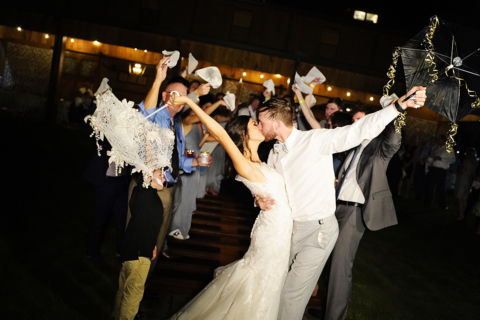 OK, now this next exit shot is so fun, but I promise it isn't as messy as it looks!  Here we have the biodegradable confetti exit.  Look how FUN and colorful this exit is!! The trick is the instruction the photographer gives the guests on this one.  *wink*.  As I mentioned, this is biodegradable, which is VERY important if you decide to use confetti as your exit sendoff.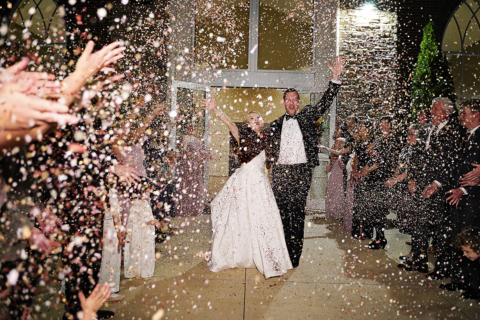 Last, but not least, is the ribbon streamers!  Now as you can see ribbon streamers are FUN, festive, and colorful, and they do not make a mess!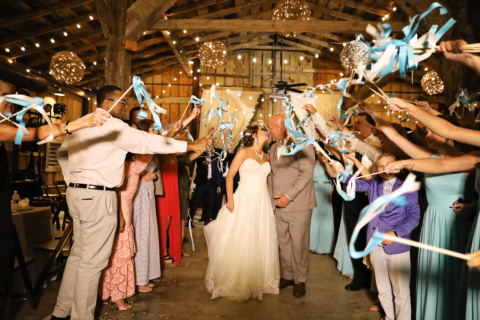 I hope you've enjoyed these example exits you may want to try on your wedding day.  Memphis brides, as you search for your wedding photographer, I hope you'll contact me to see how I can help capture your perfect wedding day and exit.
Blessings and Peace,
Cindy
cindy@cbtphotography.com
901-592-8080